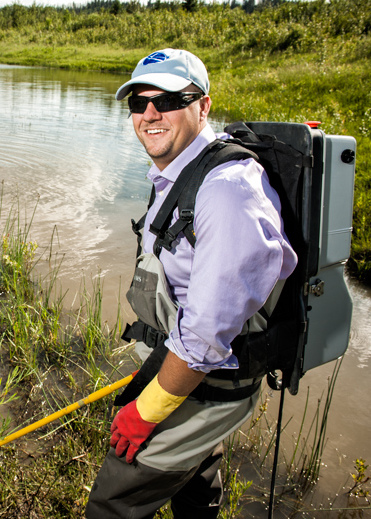 My research focuses on issues related to aquatic biodiversity, including: conservation of freshwater fishes (e.g. species at risk, invasive species), sustainable resource development and developing robust restoration and reclamation activities. My goals are to: build effective collaborations across Alberta and North America; to train the next generation of research leaders; to provide an atmosphere of respect and learning; to engage the public and stakeholders; and, to develop leading edge novel research to solve applied problems. Connect with me with any questions or comments on a number of platforms:
Faculty Web Page: Link
Follow on Twitter: @MarkPoesch
Facebook: Link
YouTube Channel: Link
I teach Fisheries and Wildlife Management (RENR376), Advanced Fisheries and Wildlife Management (RENR476) and I contribute to many related courses like Environmental Impact Assessment (RENR307), Field School (RENR299) and Disturbance Ecology (RENR440).
Current Courses:
RENR 476 – Advanced Methods in Fisheries and Wildlife Management
RENR 376 – Fisheries and Wildlife Management
RENR 307- Environmental Assessment Principles and Methods (contributor)
RENR 299 - Field School - Fisheries Methods (contributor)
A lot of my teaching is done outside-the-classroom, but click for a full list of my in-class room teaching, including a list of all my classes and teaching philosophy.
I am active on numerous boards that impact aquatic policy, including the Freshwater Fishes Specialist Sub-Committee of the Committee on the Status of Endangered Wildlife in Canada (COSEWIC); as past-president (2015-2017) of the Canadian Aquatic Resource Section (CARS) of the American Fisheries Society, and on the provincial Species at Risk Scientific Subcommittee. I also contribute to University of Alberta USchool, an organization that exposes at-risk youth to a taste of university experience.
Click  for a full list of my professional contributions.
Poesch, M.S. Invasive species in Alberta, are we doing enough? Alberta Chapter of the Wildlife Society Annual General Meeting, Lethbridge, AB, March 2018 (Invited discussion panel member, audience ~ 100).
Poesch, M.S. Endangered species or endangered spaces? Moving from species to ecosystem-based conservation in the age of the Anthropocene. Canadian Conference for Fisheries Research, Montreal, Quebec, January 2017 (Conference Plenary, audience ~ 500).
Poesch, M.S. Building ecologically robust lakes for fisheries compensation. North American Lake Management Society, Banff, Alberta, November 2016 (Keynote at Symposium on Habitat Offsetting, audience ~ 60).
Click for a full list of presentations.
NSERC Post-Doctoral Visiting Fellow, Fisheries and Oceans Canada
Doctorate of Philosophy, Ecology & Evolutionary Biology, University of Toronto
Master of Science, Zoology, University of Guelph
Bachelor of Science, Honors Biology, Integrative Biology, University of Western Ontario.
Click for a full list of my education and training.